Ceramic studio "Ateliér Mária"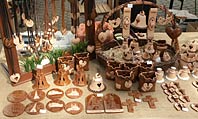 Welcome.
Ateliér Mária is a "family business", that is devoted to hand manufacture of ceramics, precisely, souvenirs of baked clay and other natural substances for about 10 years by now. With our articles we try to keep up with typical slovak folk motives, that are the immutable symbols of slovak culture.
Our studio is situated in the town of Spišská Nová Ves in eastern Slovakia, in the territory with growing tourism. Therefore, many of our products are bound to favourite tourist locations of our region - Spiš, such as Slovak Paradise, High Tatras and The Spiš Castle.
We specialize particularly on seasonal and occasional ceramics, gift items and souvenirs manufactured to order for hotels, pensions, tourist centres or business gift artifacts. For more information about goods manufactured to an order, please see our offer.
Ateliér Mária - ceramic studio
RNDr. Mária GÉCZYOVÁ
Duklianska 47
052 01 SPIŠSKÁ NOVÁ VES
SLOVAKIA